Customer satisfaction as a strategic objective
Customers and their satisfaction are at the center of Nobis's philosophy.
To do so, we pay constant attention in a situation of need and are always able to assist the customer and devote our utmost interest so as never to leave them alone. It is no coincidence that Nobis is well below the average number of complaints for each type of classification.
Claims for
MM € of turnover
Source: IVASS, data on Claims – 1st September 2022
NOBIS
MARKET (Italian Companies)
MARKET (foreign Companies)
Claims for 10.000 contracts

Source: IVASS, data on Claims – 1st September 2022
NOBIS
MARKET (Italian Companies)
MARKET (foreign Companies)
Claims for MM € of turnover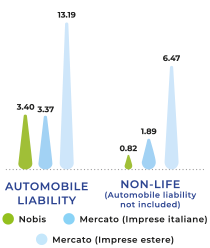 IVASS, data on Claims – 1st September 2022
Claims for 10.000 contracts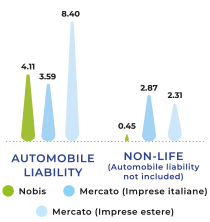 Source: IVASS, data on Claims – 1st September 2022