Intergea, the Italian leader in the automotive distribution industry, can count on a network of more than 137 stores in 11 Italian regions.
Our car dealership method is fully aligned with each brand's identity.
We follow and respect the manufacturer's standards and image.
The project was born with the idea that every single associate is fully independent but with data and cost optimization to reach an interesting scale economy on supplies.
The required economical resources for activity and the economical results achieved are a prerogative of each company, ensuring their enhancement and development. All Associated Companies contribute to the profits also coming from new commercial and financial activities developed by Intergea Group. Logistics, secondhand vehicles, warranty extension, and financing are the pillars of all positive economical results achieved.
Brands represented






























Brands represented

Companies controlled
Autoingros Torino S.p.A.
Gruppo Logica S.p.A.
Theorema S.p.A.
Forza S.p.A.
Teknogest S.r.l.
Private Car Rent S.r.l.
Mocautogroup S.r.l.
Overdrive S.r.l
G. Villa S.r.l.
Autobro by Carzooon S.p.A.
Certo S.p.A.
Cierreffe S.p.A
Cierreffe Lombardia S.r.l
Car Village Firenze S.r.l.
E20 S.r.l.
Etica S.r.l.
HOLDING INTERGEA NORD EST MOVE
Gruppo Ferrari S.r.l.
Autoteam S.r.l.
Autoteam9 S.r.l.
INTERGEA PREMIUM S.R.L.
AutoArona S.p.A.
Ideadue S.r.l.
Companies affiliate
Alternativa S.p.A.
Auto 3 S.p.A.
Auto Si S.r.l.
Contatto S.p.A.
Eclettica S.r.l.
Fratelli Cozzi S.p.A.
Gruppo D. Motors S.r.l.
Locauto Due S.r.l.
Nuova Auto Alpina S.r.l.
Effepi Auto S.r.l.
Torino Auto S.r.l.
Tua S.p.A.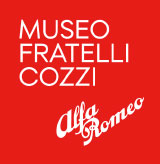 Fratelli Cozzi in Legnano is the oldest Alfa Romeo dealership in the world; it represents the brand since 1955 and for this reason, it has also been awarded the status of historical business by the Lombardia district. What drives the owner, Pietro Cozzi, with Alfa Romeo is beyond mere business: it is true passion. All you need to do is go downstairs. Here you will find, in a garage along a red carpet, more than 60 historical Alfa Romeo cars built from 1950 up to today, shiny, perfectly stored, showing all of Alfa Romeo's allure.
To understand it, it is enough to get downstairs, in the basement: arranged in the garage, along a red carpet, over 60 Alfa Romeo built since the 1950s are still shining, perfectly polished and preserved, to evoke the charm of Alfa Romeo.